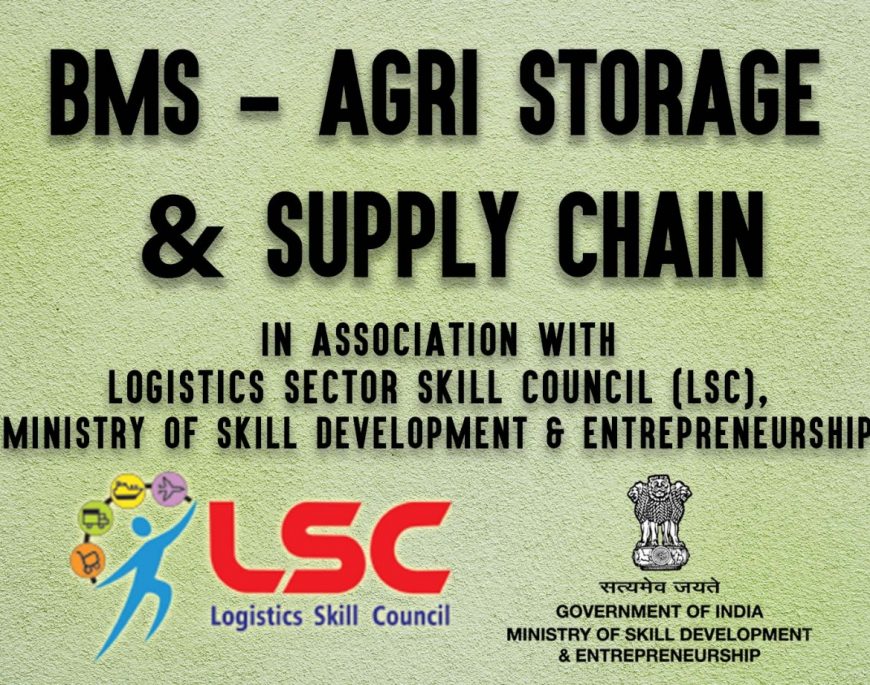 BMS – AGRI STORAGE & SUPPLY CHAIN (3 YRS PROGRAMME)
RAI Technology University has signed an MOU Agreement with Logistics Sector Skill Council (LSC), MINISTRY OF SKILL DEVELOPMENT AND ENTREPRENEURSHIP to launch industry oriented programmes –
COURSE SYLLABUS
Uniqueness of BMS-AGRI STORAGE & SUPPLY CHAIN (3 yrs.)
Initiative of Ministry of Human Resource Development & Ministry of Skill Development and Entrepreneurship
Developed by the industry for the industry.
Skill and attitude in addition to knowledge, making students industry ready.
Opportunity for life skill development.
Classroom learning for 3/4 Semesters.
12 months industry experience within the programme period.
Government Certificate for each spell of Apprenticeship.
Monthly stipend of Rs 9,000 during apprenticeship period.
Apprenticeship and Final Placement ensured by LSC.
Best suitable for students who want to gain experience before final placements or students who would like to become Entrepreneurs.
PROGRAMME HIGHLIGHTS – BMS – AGRI STORAGE & SUPPLY CHAIN (3 YRS)
Experts from leading companies in Bangalore will regularly deliver lectures.
This programme is integrated with compulsory paid internship.
This programme blends classroom learning followed by internships and then FINAL PLACEMENTS in the relevant industry.
The curriculum is developed by the LSC.
BENEFITS FOR STUDENTS
Monthly stipend of at least Rs 9,000 during internship/apprenticeship
Compulsory internship programs during 5th and 6th Semesters.
Industry ready course that will help students with final placements.
Final placement enabled and assured by LSC.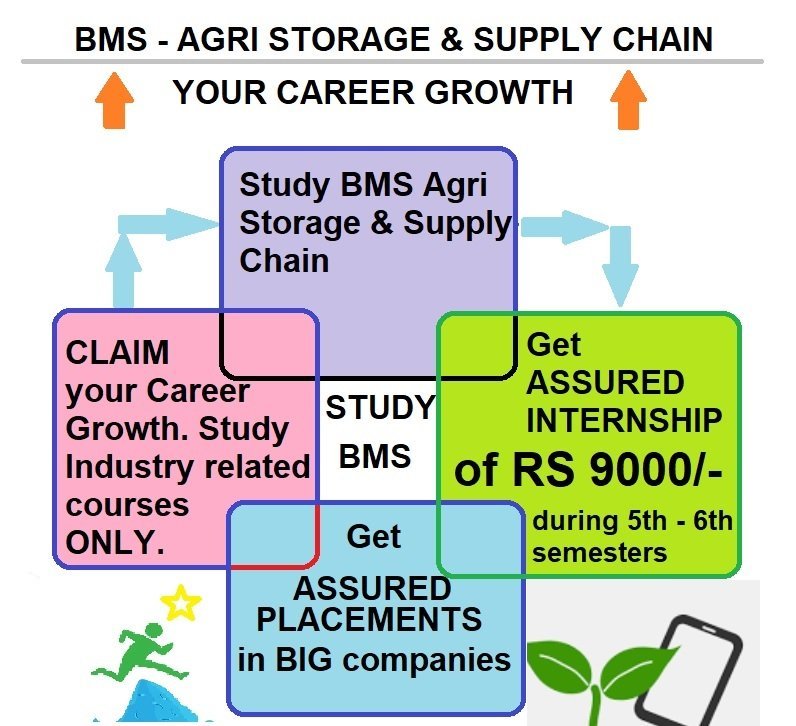 WHY STUDENTS SHOULD JOIN?
COMPULSORY PAID INTERNSHIP / APPRENTICESHIP ASSIGNMENT DURING FIFTH & SIXTH SEMESTERS OF BMS DEGREE.
WHAT IS LSC?
Logistics Sector Skill Council, (LSC) is an organisation set up by Ministry of Skill Development and Entrepreneurship (MSDE) through National Skill Development Corporation of India (NSDC) and promoted by Confederation of Indian Industries Institute of Logistics (CII-IL) a Centre of Excellence in Logistics with the aim to develop skill trained as well as up-skill the workforce in India.
PROGRAM DESIGNED BY LOGISTICS SECTOR SKILL COUNCIL (LSC) – ESTABLISHED BY THE MINISTRY OF SKILL DEVELOPMENT AND ENTREPRENEURSHIP (MSDE)
ASK ABOUT PLACEMENTS AND INTERNSHIP DETAILS -07812943823
(*The University may revise, remove or add courses any time according to current industry needs and recommendation of the Academic Council without prior notice to students.)